This spicy and boozy cake was inspired by my recent trip to London. I love exploring culture through cuisine, and foreign grocery stores are always a pit-stop for me. I came across this pear, ginger, and white chocolate cake in Waitrose, and was intrigued by the flavor combination.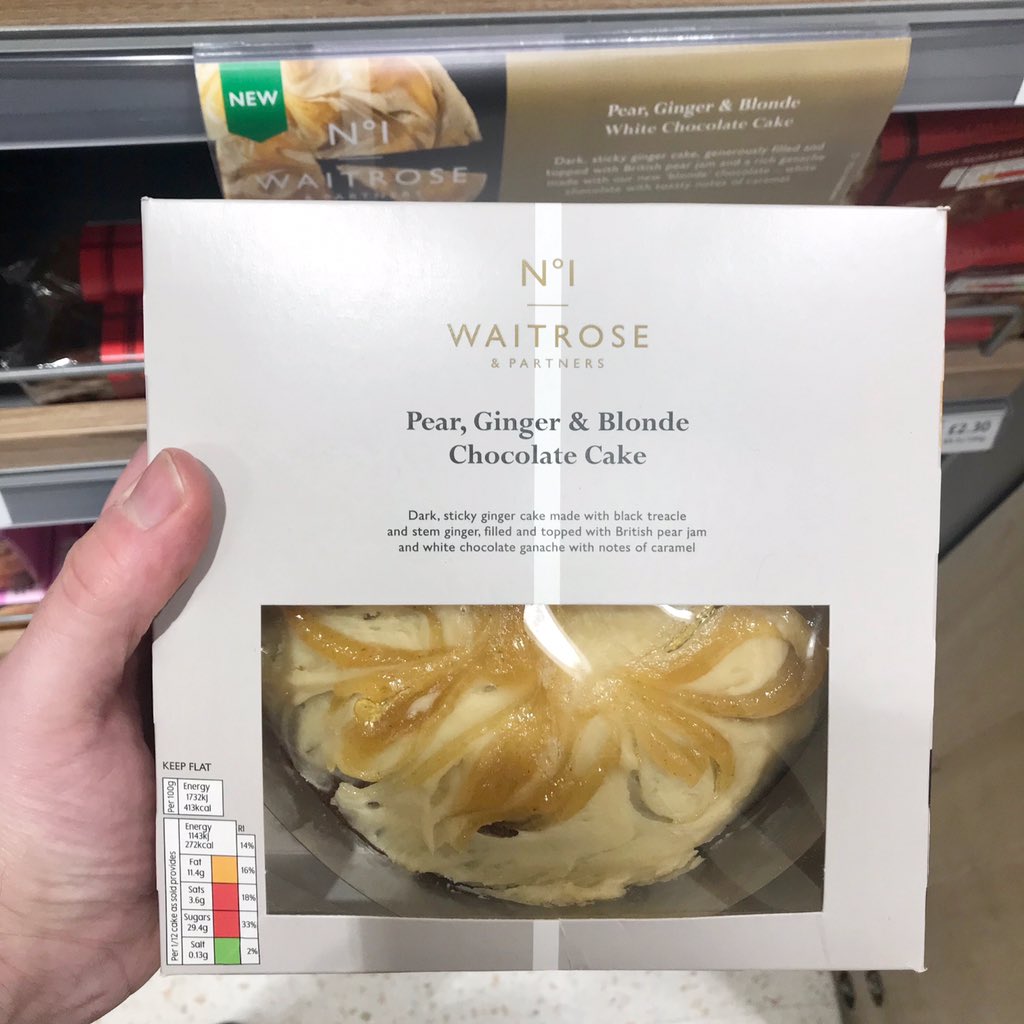 The cake is described as a "dark sticky ginger cake made with black treacle and stem ginger, filled and topped with British pear jam and white chocolate ganache with notes of caramel." The original cake was cloyingly sweet due to the white chocolate caramel ganache, but I loved the autumnal harmony of the pear, ginger, and molasses.
I don't see pear jam very often, and I loved how mossy and velvety it felt on the tongue. The stem ginger, which is basically ginger soaked in a sugar syrup, studded the cake and greeted my molars like spicier and more succulent versions of raisins. And the treacly stickiness of the cake felt so warm and cozy and perfect for the cold weather.
After examining the ingredients list closely, I came up with an action plan to put my own spin on this cake. While the Waitrose version used stem ginger, I used a David Lebovitz recipe that relied on fresh ginger – I wanted a less sweet effect. After reading the comments, I also halved the sugar and oil from the original recipe. The cake is spicy and flavorful, but definitely a little dry with less oil.
I didn't find an affordable pear jam in my local grocery stores (Whole Foods had one for $10) so I decided to make my own. The jam involved dicing up less-than-ripe pears and letting it sit in sugar and a squeeze of lemon juice overnight, then heating it up while simultaneously mashing it to get a jam. I probably should've cut the pieces smaller, but I didn't mind the toothsomeness.
While I found many recipes for caramelized white chocolate frosting, I decided to keep it simple and made a two-ingredient frosting from Trader Joe's Fleur de Sel Caramel Sauce and unsalted butter. For me, the sweet, smooth and creamy frosting is what ties the whole cake together. I hadn't planned to brush the cake with rum, but it seemed like a good idea and I did not regret it. The bite from the fresh ginger mellows after a day or two, as does the alcohol from the rum, and this is a cake that improves with time.
Pear, Ginger and Rum Cake with Salted Caramel Frosting
Makes one 8.5 x 4.5 inch loaf cake
Cake adapted from David Lebovitz in the New York Times; pear jam from Practical Self Reliance; salted caramel frosting adapted from Let The Baking Begin
Ingredients
Ginger Rum Cake
140g molasses
50g granulated sugar
80g neutral oil, like canola
150g all purpose flour
1/2 tsp ground cinnamon
1/4 tsp ground cloves
1/4 tsp ground black pepper
1 tsp baking soda
2 oz fresh ginger, peeled and finely chopped
1 egg
1/2 cup dark rum (optional)
Pear Jam
1 lb pears that are just shy of ripe
100g sugar
1 tbsp lemon juice
Salted Caramel Frosting
4 oz butter, unsalted, room temperature
7 oz salted caramel sauce
Instructions
To make the jam:
Peel, core and dice pears. (Be sure to chop the pears relatively small, as they'll remain close to that size in the finished jam.)
Toss the pears in lemon juice and sugar, cover and refrigerate for overnight (12 to 24 hours). This step is important, and at an absolute minimum, they need 4 hours, preferably more.
Place pear mixture into a heavy-bottomed saucepan and bring to a boil on high. The mixture will foam, so be sure your pan is big enough to handle foaming to avoid overflows.
Stir the mixture occasionally, watching for overflows, and cook for about 10-15 minutes. If pear pieces are too large, crush slightly with a potato masher (optional).
Cook until the pear jam reaches gel stage at 220 F, using an instant-read thermometer or testing a small amount on a plate placed in the freezer.
Set aside the pear jam in the fridge for later use.
To make the cake:
Position rack in center of oven. Heat to 350 degrees. Line a 8.5 by 4.5 inch loaf pan with parchment paper.
Mix together the molasses, sugar and oil. In another bowl, sift together flour, cinnamon, cloves and black pepper.
In a small saucepan, bring 1/2 cup water to a boil. Stir in baking soda, then mix hot water into molasses mixture. Stir in ginger.
Gradually whisk the dry ingredients into batter. Add egg, and continue mixing until everything is thoroughly combined. Pour the batter into prepared pan, and bake for about 50 minutes, until top of cake springs back lightly when pressed or until a toothpick inserted into center comes out clean. If the top of cake browns too quickly before cake is done, drape a piece of foil over it and continue baking.
Cool cake for at least 30 minutes. Run a knife around edge of cake to loosen it from pan. Invert cake onto a cooling rack, and peel off parchment paper.
To make the frosting:
Start with room temperature butter. For this, remove butter out of the fridge for about 3 hours.
Add the butter to the mixer bowl and whip for about 5 minutes, scraping down the sides several times throughout. Then add salted caramel sauce until just mixed.
To assemble the cake:
Slice cake into three layers. Brush each layer with rum, if desired.
Spread pear jam onto two of the layers.
Assemble cake into a three-layered stack.
I recommend freezing the cake for about 30 minutes for easier frosting. Spread salted caramel frosting all over the cake.